Salam damai buat semua pembaca yang dikasihi :)
Mahukah anda mengakses Energi Sukses Tanpa Batas?
" Ternyata Sukses Itu Mudah "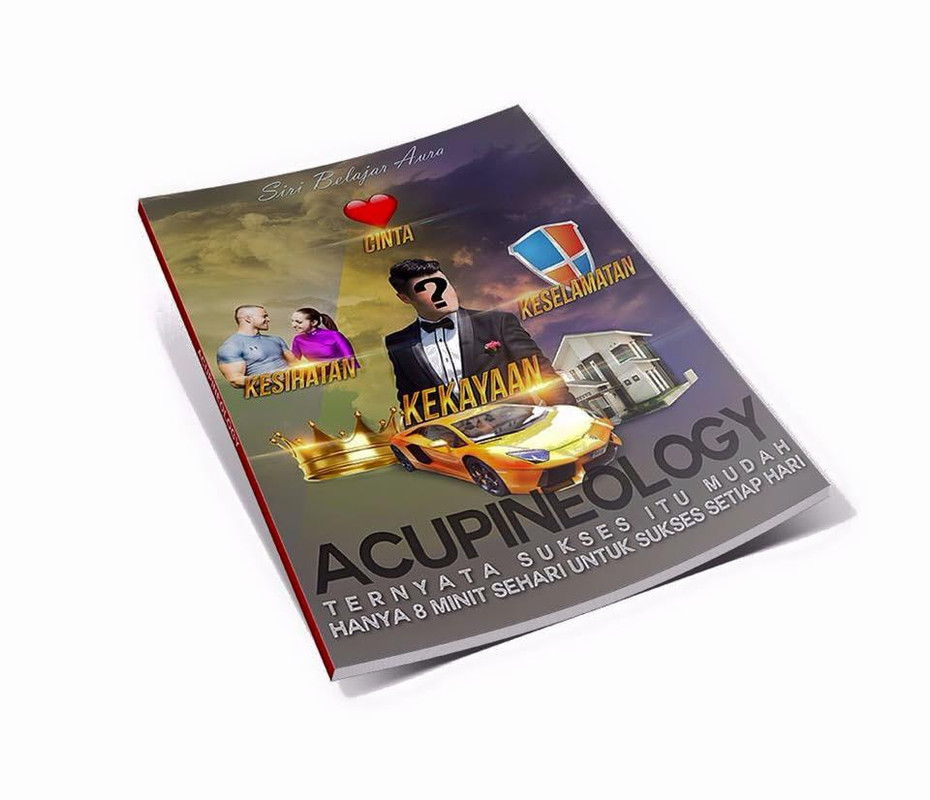 Setiap hari kita mendengar ada wajah-wajah baru yang dinobatkan sebagai jutawan........





Setiap hari kita nampak di media-media sosial ramai orang berbahagia dengan bermacam anugerah nikmat kehidupan......





Ada yang baru saja mendapat cahaya mata.....





Ada yang menunjukkan gambar hari berbahagia bersanding sebagai raja sehari......





Ada yang menunjukkan keuntungan begitu banyak dari hasil bisnesnya.....





Ada yang sharing gambar dan pengalaman melancong di berbagai pelusuk dunia.....





Ada yang dapat kenaikan pangkat, dan tidak kurang pula yang baru mendapat kerja dengan gaji sangat lumayan......



Keajaiban selalu menyentuh hidup orang-orang yang getarannya selari dan harmoni dengan hukum alam atau Sunnatullah, sengaja mahupun tidak sengaja.....
Sains telah menunjukkan bahawa LUCK itu bukan kebetulan. LUCK itu boleh diciptakan dengan rumus-rumus yang mudah difahami oleh akal fikiran manusia.
Dinyatakan oleh Hukum ke 4 dalam The 7 Hermetic Principles,
>The Principle of Cause and Effect<
Every Cause has its Effect, every Effect has its Cause. Everything happens according to Law. Chance is but a name for Law not recognized.
There are many planes of causation, but nothing escapes the Law. It explains that, Everything Happens according to Law, that nothing ever "merely happens", that there is no such thing as Chance... only law unseen.
Intinya...... Semua Akibat ada Sebab, semua Sebab ada Akibat. Semua kejadian adalah mengikut Hukum Alam. Tiada perkara yang terjadi secara KEBETULAN.





> tiada orang yang sukses secara Kebetulan.





> tiada orang yang kaya secara Kebetulan.





> tiada orang yang dapat untung secara Kebetulan.





> tiada orang yang menang cabutan bertuah secara Kebetulan.





> tiada orang yang dapat malang dan sial secara Kebetulan.





> tiada orang yang miskin secara Kebetulan.
KEBETULAN yang kita sangkakan hanyalah disebabkan kita gagal melihat Hukum Alam yang terjadi disebaliknya.
Segala sesuatu terjadi ada sebabnya!
Dengan mengetahui SEBAB yang menghasilkan suatu AKIBAT, maka kita boleh dan berdaya untuk mengawal AKIBAT yang akan terjadi.
Dengan mengatahui SEBAB yang boleh mengAKIBATkan Kesuksesan, maka kita boleh mengelakkan Kegagalan.
Dengan mengetahui SEBAB yang mengAKIBATkan Keberuntungan, maka kita boleh mengelakkan Kerugian.
Dengan mengatahui SEBAB yang mengAKIBATkan Kesihatan, maka kita boleh mengelakkan Kesakitan.
Apapun AKIBAT yang terjadi di alam dimensi ke 3 ini, pasti ada SEBAB dari alam dimensi ke 4, dimensi spiritual di mana dunia mental kita berada, dunia energi dan getaran gelombang.
Sebagaimana dinyatakan oleh hukum kedua dalam The 7 Hermetic Principles:
>The Law of Correspondence<
As above, so below, as below so above.
This Principle embodies the truth that there is always a Correspondence between the laws and phenomena of the various planes of Being and Life.
Intinya adalah...
Yang di bawah mengikuti yang di atas,
Yang di luar mengikuti yang di dalam.
Hati kita adalah Dunia Di Dalam, manakala Kehidupan kita adalah Dunia di Luar.
Kehidupan kita mengikuti Hati kita.
Hati yang bahagia mustahil menghasilkan hidup bahagia. Hati yang kaya mustahil menghasilkan hidup yang miskin.
Alam Material mengikuti alam Spiritual.
Alam Zahir mengikuti alam Ghaib.
Dengan menguasai alam spiritual, dengan kemampuan mengawal vibrasi energi yang merupakan asas bagi semua ciptaan, maka kita boleh mengawal apapun ourtcome di alam fizikal ini!
Di dalam E-book, ini anda akan dibimbing untuk menguasai satu teknik YANG SANGAT MUDAH untuk mengakses, mengawal dan memanipulasi ALAM ENERGI lalu memanfaatkannya ke arah KESUKSESAN dan KEBAHAGIAAN anda yang berpanjangan.
Hanya RM 90 sahaja!!


Saya bebagi untuk semua, agar semakin ramai yang boleh menguasai seni ilmu energi, aura vibrasi dan gelombang dengan kos yang paling murah, paling mudah dan sangat efektif.
E-book ini adalah edisi revisi yang sudah saya update dari 9 muka surat sahaja ke 39 muka surat ketika ini.
Ianya padat dengan info-info dan pencerahan-pencerahan baru khas untuk para pembaca dan pemburu dan pencinta ilmu dan kesuksesan hidup.
Ilmu di dalam e-book ini hanyalah untuk orang-orang hang mahu berjaya dan sanggup berjaya.
BUKAN untuk orang-orang yang berfikiran negatif, yang sudah pandai atau merasa dirinya sudah pandai, bukan untuk pesimis atau haters... Really not for you!
Jika usaha kecil untuk sharing ilmu ini pun bagi anda negatif, mahal, pentingkan diri, menjual ilmu, maka saya tidak tahu apalagi yang boleh saya lakukan untuk membantu anda!
Kejayaan hanyalah milik orang-orang yang berjiwa besar, yang mahu berjaya dan sanggup sukses.
Dengan mempelajari dan mengamalkan ilmu yang di dalam e-book ini, alam akan memaksa anda untuk sukses dan bahagia!
"Ternyata Sukses itu Mudah"
"Hanya 8 minit sehari untuk sukses dan bahagia setiap hari!"
Hanya laburkan
RM 90
, untuk sebuah ilmu yang bakal mengubah seluruh hidup anda menjadi lebih baik dan semakin baik setiap hari.
Jika jumlah ini pun mahal bagi anda, maka bagaimanalah anda mampu membeli dan memiliki kejayaan dan kebahagiaan yang begitu mahal nilainya?
Tanggungjawab saya hanya menyampaikan. Syukur jika anda terima. I am very happy for you.
Tetapi jika anda memilih untuk tidak percaya, sentiasa saya persilakan. Its your life anyway!
Sangat berbaloi anda korbankan
RM 90
sahaja demi mendapatkan ilmu ini.
Anda akan berterima kasih kepada diri anda sendiri pada masa depan nanti kerana mengambil keputusan untuk memiliki ebook ini.
Saya yakin anda orang yang inginkan kejayaan!
Baiklah... Silakan buat tempahan ebook di bawah.